Welcome to
Hallettstone Memorials
Give your loved ones the goodbye they deserve .
Our Facilities & Services
Hallettstone Memorials is a local Australian business fully owned and operated by fourth Generation Stonemason Wayne Hallett and his wife Thérèse Hallett.
Wayne Hallett has been an integral part of the historic tradition of stonemasonry in the Hallett family that began in the late 1800's. His craftsmanship and knowledge is well regarded and respected in the industry in a thirty year career of leadership and innovation.
Come and visit our factory and showroom at 210 Mahoneys Road, Thomastown.

We have an office and a factory
We do not operate from a briefcase or PO box. Our office and factory are located at 210 Mahoneys Rd, Thomastown VIC 3074
We take pride in our workmanship
We take immense pride in our meticulous workmanship, ensuring exceptional quality in every task we undertake.
We are Customer Focused
: We are a partner that goes above and beyond to delight our customers and add real value, well beyond just our product offerings.
We are Reliable and Responsive
Our business consistently receives five-star reviews, demonstrating our unwavering reliability and exceptional responsiveness.
We are Family owned and operated
We take pride in being a family-owned and operated business, where our shared values and dedication ensure exceptional service and a personal touch.
We are 5th Generation stonemasons
We proudly carry on the tradition as 5th Generation stonemasons, crafting timeless works of art from the very heart of stone.
Offering compassion, empathy, and five generations of experience
"FOURTH generation master stonemason Wayne Hallett of Hallettstone Memorials goes to work every day with the skill and pride of three generations before him. As of November last year, Wayne has been an accredited stonemason for 41 years …"
… Thérèse said: "Working with a family when they are dealing with such grief and a variety of emotions can be very difficult at times; however, if we can help ease the pressure and make this process a little easier for your family then we believe that we have achieved a beautiful result. This is often acknowledged by our clients with a short email of thanks, a personal hug or quick phone call. To know that we have helped someone through a difficult time and made the process easier for them, makes our day."
Click here to see the full article about Hallettstone Memorials published in "The Australian Jewish News" on January 27, 2023.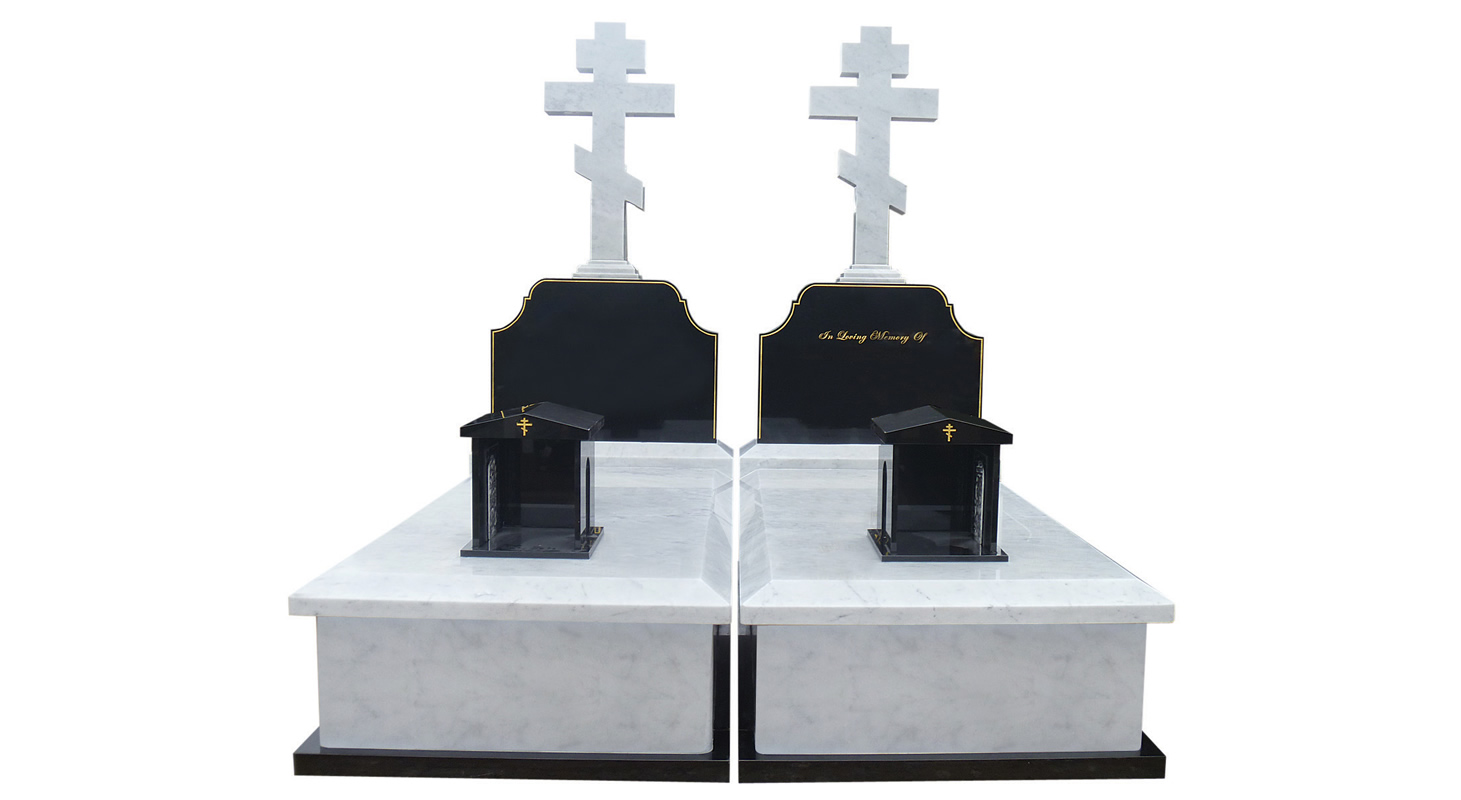 Excellence
Demonstration of excellent customer service, a focus on listening to you the customer and a commitment to improvement and innovation.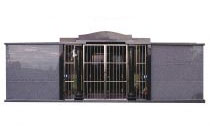 Integrity
Ensuring our actions reflect both honesty and authenticity.
Empathy
Taking the time to listen with empathy and feeling for those who have lost loved ones.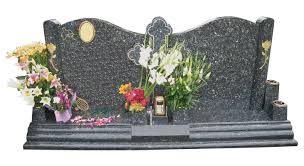 Approachable
Availability to answer your questions at all times and a focus on resolving all issues. We work in all Cemeteries in Victoria or Interstate. Please call or email for a no obligation free quotation or brochure.
Blue Pearl Granite, double monument for a beautiful family.
Included in this are two laser etchings to show their strong faith.
Mother and Child for a strong and beautiful mother and St. George for his protection of his family.
Installed at Fawkner Cemetery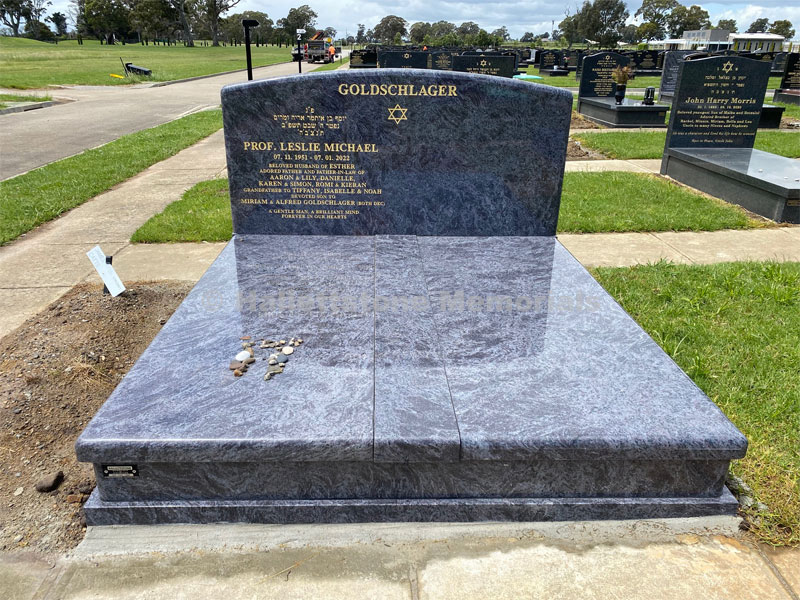 Double Vizargi Blue Granite Monument with soft lines.  Soft round on all edges of the headstone and ledger.  Sleek and simple.
Installed at Melbourne Chevra Kadisha Cemetery at Lyndhurst.
This unique design features wing-style headstones in Noble Grey with a simple yet defining centre pillar and centre path in black granite.  Very understated and classy with Natural sandblast lettering.
Installed at Melbourne Chevra Kadisha Cemetery at Lyndhurst.
Beautiful Emerald Pearl & Black Granite in honour of a truly beautiful person.
Installed at Melbourne Chevra Kadisha Cemetery at Lyndhurst.
Vizargi Blue Granite with a Moon White Granite side pillar.
Monument installed at Werribee Cemetery
When designing a monument of this size, Wayne Hallett took time to listen to the family and their personal requests to honour their loved one.  They wanted something that reflected their love, honour and respect for the head of the family.  A person they honoured and love so very deeply. The monument was engineered by Wayne in such a way as to ensure he achieved their requests.  Simply beautiful Emerald Pearl Blue Granite with Indian Black granite.
Flower artwork is designed in-house by our staff.
Monument installed at Preston Cemetery.
Stunning White Carrara Marble from Italy, complimented with black lettering.
Elegant yet understated.
Monument installed at Fawkner Cemetery.
A simple and understated monument for a very special person.
White Italian Carrara Marble.
Installed at Fawkner Cemetery.
Harcourt and Grandee Granite single monument.
Installed at Fawkner Cemetery.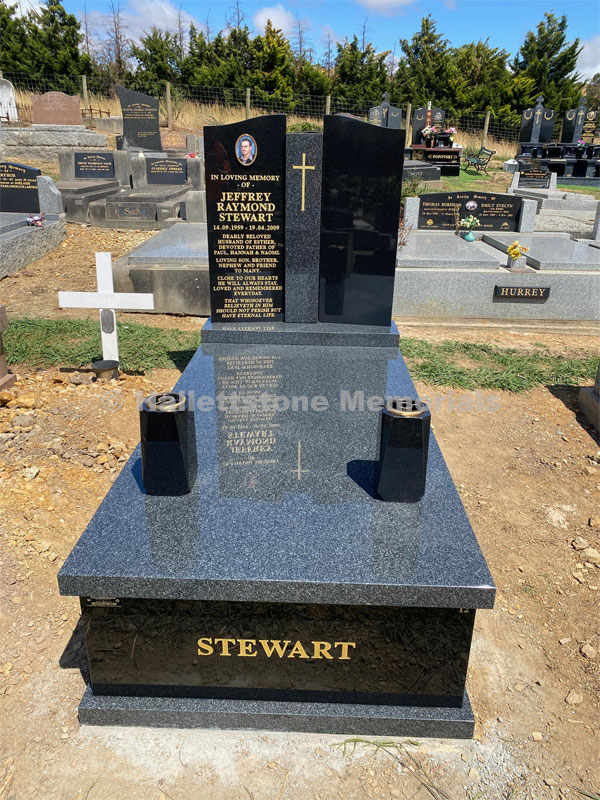 Grandee and Black Wingstyle Monumen.
Installed at Yan Yean Cemetery.
Grandee and Black headstone. Artistic design installed at Springvale Cemetery.  Candlebox with laser etching.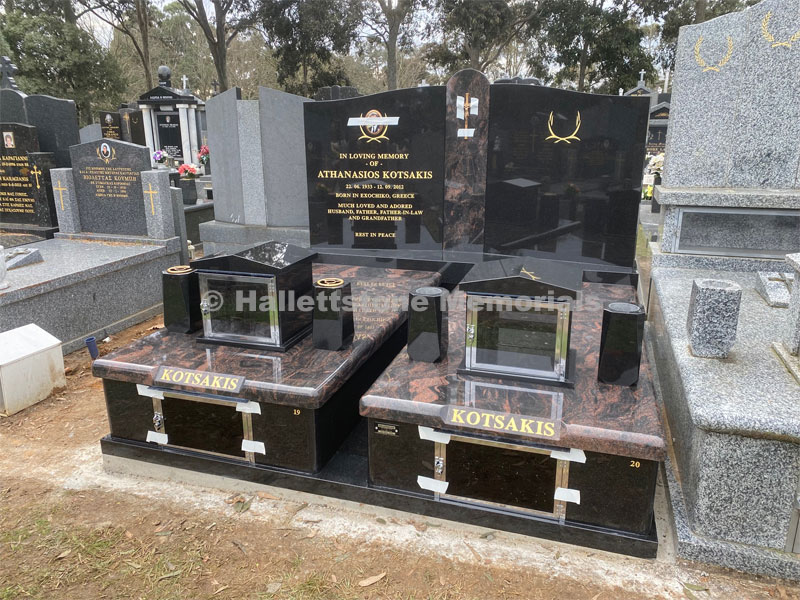 Lovely earthy tones.  Black and Aurora Granite monument.
Simple design with a less is more elegant feel.
Installed at Springvale Botanical Cemetery.
A grand yet elegant White Carrara Marble Monument tall in stature for a wonderful husband and father.
Installed at Keilor Cemetery.
As avid car lovers, Wayne & Therese Hallett were delighted to be apart of the 50th Anniversary celebrations for the Lot 6 GTHO day. We donated a laser etched plaque which will be used as a foundation stone at Lot 6 Mahoneys Road, Thomastown.
We can customise a laser etched plaque for your car club, motorcycle club or for the special vehicle you may have.  Contact Hallettstone Memorials for further information.